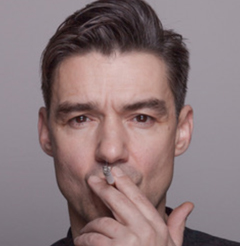 BYETONE
Born in the East German city of Karl-Marx-Stadt in 1968, Olaf Bender's creative work began with the casual finding of 16mm film equipment during school time. From that moment on, he started experimenting with the medium "film" as well as the raw material "film".
Technical limitations forced special methods: he scratched and painted directly on the footage to create geometrical figures; the results were archaic motion patterns. As a consequence of his experiments, he came into contact with the East German underground avant-garde band ›AG Geige‹, initiated by Frank Bretschneider and Jan Kummer, of which he became a permanent member in 1988. By working with this group, he also got into musical aspects. The home computer made it possible for autodidacts like him to work multimedially without formal musical training.
After the fall of the Berlin wall in 1989, Bender worked in music distribution. The experiences he gained there led him to the idea of publishing his own music by himself. Together with Frank Bretschneider, he founded the record label ›rastermusic‹ in 1996 which later merged with Carsten Nicolai's sublabel ›noton‹ to form ›raster-noton‹ in 1999. Bender not only managed the label, but is also responsible for it's distinctive cover design.
Since the founding of rastermusic, Bender has been part of the groups Produkt and Signal and produced music solo under the moniker Byetone, but it was not until 2008 that he released his first full length record on raster-noton. In 1999, he contributed an EP to the Prix Ars Electronica award-winning »20' to 2000« series and later in 2003 recorded the album »Feld« for Bine Music as the label's debut release. His EP »Plastic Star«, released in 2008, defined his signature sound, presenting a minimalist rhythm-based music with a rock attitude that can do without too much processing and decoration; an archaic, rebellious music full of energy. May 2008 finally saw the release of the highly acclaimed »Death of a Typographer«, whose follow-up »Symeta«, released in 2011, even entered several "record of the year" lists.
In the wake of his own records, Byetone has also produced remixes for artists like Modeselektor and VCMG (Vince Clark and Martin L. Gore), as well as sound works for fashion designers like Rick Owens, Nina Ricci or NikeLab. He is also part of the duo Diamond Version (together with Carsten Nicolai) that released a series of EPs and a full-length record on Mute Records in 2014.
In May 2017, raster-noton dissolved, with Bender running the newly formed ›raster‹ label, handling the r-n back catalog, and realizing installations like Raster. Labor, premiered during CTM Festival in January 2019, or Raster. Schwellen, premiered at TodaysArt Festival in September 2019.